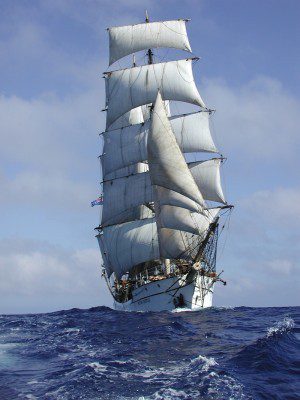 Tall Ship, Picton Castle, Delivers Adventure and Cargo in the South Pacific | gCaptain - Maritime & Offshore News: "LUNENBURG – Circling the world five times as part of her famed 30,000-mile circumnavigation voyages, the tall ship Picton Castle has often been called upon to deliver critically-needed goods, including medical supplies and thousands of pounds of donated books and educational materials, to remote island communities.
For Captain Daniel Moreland, founder of the award-winning sail training program, these impromptu cargo missions are valuable teaching moments – an opportunity to learn how to safely load, handle and stow cargo in the hold of this 179-foot sailing ship and practice global citizenship, with the bonus that such introductions ultimately lead to a more intimate experience of the people and places the ship visits, whether that's an orphanage in Africa or a palm-covered atoll in the Pacific.
This summer, the Picton Castle and her crew of young professional mariners and trainees will spend 10 weeks providing much-needed shipping assistance in the heart of Polynesia. "
'via Blog this'