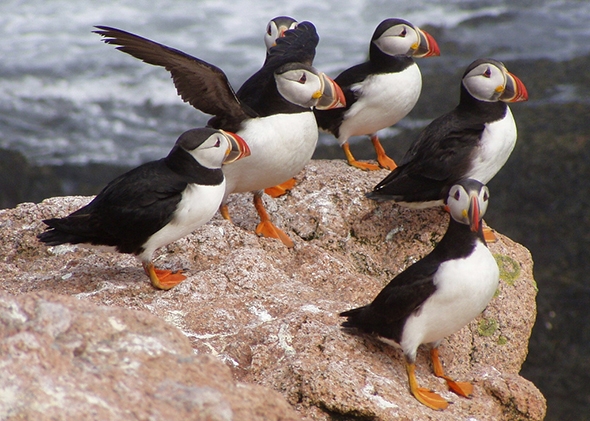 Maine puffin chick death: Climate change, hungry chicks, and strange fish (VIDEO).:
by Rowen Jacobsen
"The puffin cam, thanks to a grant from the Annenberg Foundation, offered new opportunities for research and outreach. Puffin parents dote on their single chick, sheltering it in a 2-foot burrow beneath rocky ledges and bringing it piles of small fish each day. Researchers would get to watch live puffin feeding behavior for the first time, and schoolkids around the world would be falling for Petey.

But Kress soon noticed that something was wrong. Puffins dine primarily on hake and herring, two teardrop-shaped fish that have always been abundant in the Gulf of Maine.
But Petey's parents brought him mostly butterfish, which are shaped more like saucers. Kress watched Petey repeatedly pick up butterfish and try to swallow them. The video is absurd and tragic, because the butterfish is wider than the little gray fluff ball, who keeps tossing his head back, trying to choke down the fish, only to drop it, shaking with the effort. Petey tries again and again, but he never manages it. For weeks, his parents kept bringing him butterfish, and he kept struggling. Eventually, he began moving less and less. On July 20, Petey expired in front of a live audience. Puffin snuff."
'via Blog this'