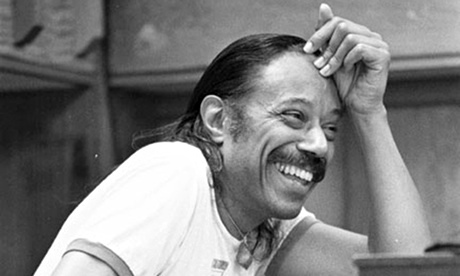 Horace Silver was one of the great jazz musicians of the 1950's and 1960's when players like him were Jazz Messengers who expressed sublimely the aspirations and yearning for freedom and peace of black people the world over. They inspired millions. I believe that those whom they reached were changed forever. Those musicians and their audience played a big part in the changes that made possible the election of Barack Obama. - gwc
Horace Silver, US jazz musician, dies aged 85 | Music | theguardian.com:
"Jazz musician Horace Silver, a composer known for pioneering hard bop, has died, National Public Radio said on Wednesday. He was 85.

Silver, a native of Norwalk, Connecticut, was shaped by the Portuguese influence in the islands of Cape Verde, from where his family emigrated to the United States.

Playing alongside noted jazz musicians such as bassist Oscar Pettiford and drummer Art Blakey, Silver, who played piano and saxophone, recorded exclusively for Blue Note Records over three decades before founding his own label, Silveto Records.

Silver composed music featuring percussive, hard-driving beats that was inspired by his philosophy of holistic self-help, jazz critic Leonard Feather wrote in his Encyclopedia of Jazz."
'via Blog this'